By : Pierre Lapointe
Associate Market Strategist

Profits: Is the honeymoon over?
For some years now the quarterly reporting season has been a happy time for the investor community – companies have on the whole been beating expectations since 2002. In the U.S., the fourth quarter was the 14th in a row in which profits were up at least 10% from a year earlier. It's been the longest such run on record.
However, if the analyst consensus is to be believed, the days of nectar and ambrosia are over. On January 1 the consensus expected first-quarter earnings growth of 8.7%. Today it expects 5.2%. Though results tend to exceed forecasts (by about 3%), double digits now seem unlikely.
The same analyst consensus expects earnings for 2007 as a whole to grow 6.0%, which would make this year the slowest since 2002. Yet that growth would still be higher than the nominal GDP growth of about 5% that is forecast for 2007 by the most recent economist consensus.
Moreover, the latest ISM surveys suggest that the U.S. economy will decelerate more than anticipated. The composite of the manufacturing and non-manufacturing ISM indexes (weighted to reflect the economy) fell in March to the lowest since the U.S. intervention in Iraq in early 2003.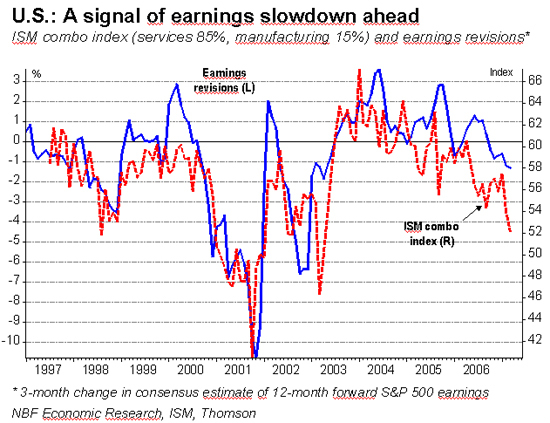 U.S. cooling is beginning to show up in earnings outlooks. Among companies that have given profit guidance, the ratio of negative to positive pre-announcements is now 3.2, the highest since the third quarter of 2001.

First-quarter earnings growth has been revised down for nine of the 10 S&P 500 sectors, according to the Thomson compilation of analyst estimates. The only sector to be upgraded is Financials, despite the problems of subprime mortgage lenders. The weight of this sector – 22% of S&P 500 market capitalization and 27% of S&P 500 earnings – gives further reason for concern about profits. Spillover from mortgage lenders would directly hurt earnings for the market as a whole.
The earnings of the Canadian benchmark S&P/TSX have grown more than 10% in each of the last five years. Analysts generally expect the sequence to continue: the consensus sees growth of 13.1% for the year and 10.2% for the first quarter.
Earnings downgrades have failed to daunt the stock indexes. The S&P/TSX was recently at an all-time high. Our own view – that the markets have yet to take the full measure of the economic slowdown and its implications for earnings growth – leaves us comfortable with our strategy of caution.
Have a good week.